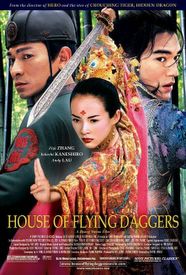 Not in this movie, as ninjas are Japanese, and House of Flying Daggers is Chinese. Not that it matters, because even Godzilla couldn't have made this a better movie.

House is director Yimou Zhang's follow-up to the incredibly successful Hero. Like Hero, House is a ridiculously beautiful kung fu movie. And, like Hero, it features the oh-so-purty Ziyi Zhang. And, unfortunately, like Hero, it's fatally flawed by Zhang's inability to tell a story.

House tells the story of an Chinese army captain, Jin (Takeshi Kaneshiro), sent to find the House of Flying Daggers. The Flying Daggers are a group of assassins. Jin goes undercover as a rogue to follow a blind Dagger, Mei (Ziyi Zhang), the daughter of the Daggers' former leader. Even though Jin knows his mission is to find the Daggers and to make sure Mei doesn't get away, he does something very stupid, and falls in love with her. This is also where the movie does something very stupid, and decides to follow the wrong plotline.

This movie has two major problems. The first is that it pulls a major switcheroo on the viewer. Remember Gladiator, that perfectly shitty Best Picture winner from a few years ago? Remember how the ending promised us a full-out assault on Rome, and, when the ending came, turns out it was just a knife fight? Same deal here. We anticipate the Chinese Army storming the House of Flying Daggers, and for some real shit to happen. We're even teased with a beautiful shot of the army, clad in green, silently approaching the Daggers' lair through a bamboo forest. Do we get to see some shit? Well, no...

...because of this movie's second problem: It's not really a kung-fu movie. It's a romance cleverly disguised as a kung-fu movie. And that's why there's no war at the end of this, because the movie has to resolve its primary plot, which is the love story between Jin and Mei. No time for kung-fu fighting; we wanna see what happens to these star-crossed lovers!! Zhang's Hero was saddled with a similar burden that basically ruined that film (that, and the fact that it told the same story roughly two too many times). This type of film can be pulled off (witness Crouching Tiger, Hidden Dragon), but this isn't it. Zhang probably needs to go back to making straight romance movies, instead of gearing me up for some serious ass kicking, only to disappoint me with all this lovey-dovey bullshit. Skip this, and go see Kung-Fu Hustle instead. Now there's a kung-fu movie!